WELCOME TO THE
CLAWFOOT BATHTUB WAREHOUSE
And look WHAT'S NEW!
---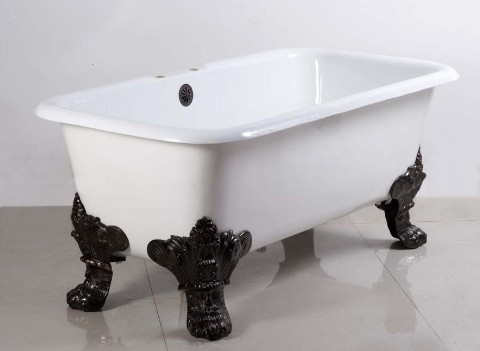 JUST ARRIVED! CALL FOR DETAILS
You will only find this beautiful historic Bear's Paw clawfoot tub here at the Clawfoot Bathtub Warehouse. If you are in the market for a clawfoot bathtub but want something different, this tub is your solution.
Our own reproduction of an 1890's American Standard clawfoot with it's magnifient Bears Paw feet, this bathtub is sure to become a collector's item and increase in value in the coming years.
There are just a few and we are offering them for a special package price. Call for availability---they're selling quickly.
Price of tub and legs is $2695.00.
---
---
WE'VE GOT YOUR CLAWFOOT BATHTUB
Thank-you for visiting the Clawfoot Bathtub Warehouse! Browse through our pages---you'll find just what you're looking for. Plus, we have a dozen new products coming in the next 2 months, so give us a ring if you are looking for something special.
WELL DESIGNED QUALITY CLAWFOOT HARDWARE
Our exclusive products have all been developed with attention to detail, design and function. We believe that you deserve the best clawfoot bathtubs, faucets, shower rings and hardware--- it's all here!
LOOK FOR THE LONE STAR BRASS WORKS LABEL
If you see the Lone Star Brass Works label, you'll know you've found a proven quality product that will offer easier installation, a long life and handsome design.